We are working on sterilizing the inside of the vehicles as a measure against
We are working on sterilizing the inside of the vehicles as a measure against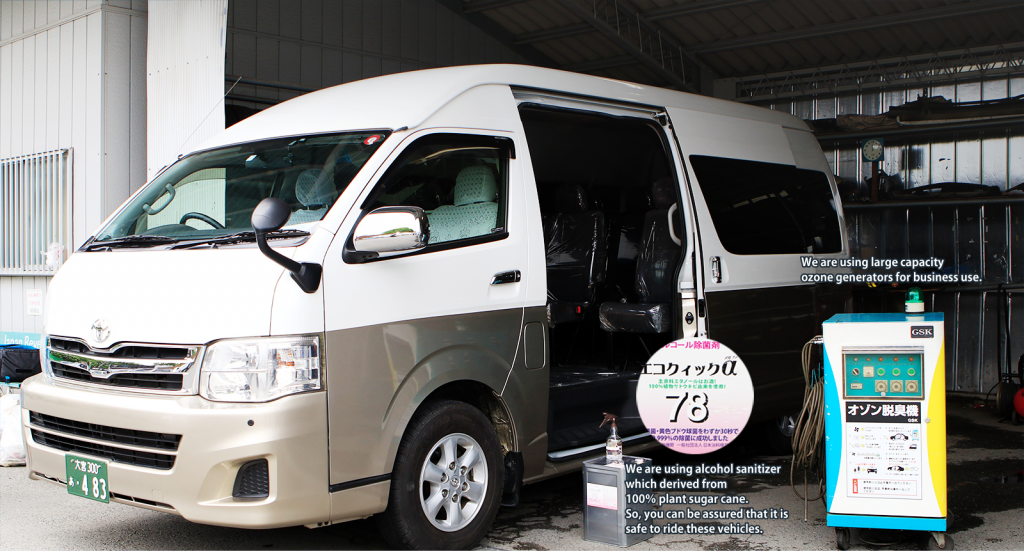 Special Transferring Plan for Returnees from Overseas
Due to the global epidemic of COVID-19, returnees from overseas cannot use public transportations.
For these passengers, Heiwa Kanko provides transportation in vehicles applied with measures to prevent the infection.
*This plan is a special plan for those infected with COVID-19.
*Application for this plan must be made by 24 hours before the pick-up time.
*You cannot make reservation within 24 hours of pick-up time.
Measures for COVID-19 infection prevention
Droplet prevention plate (with vehicle photo)
All seats are wrapped
Ozone deodorizer
Sterilization with alcohol
Protective clothing
N95mask
Goggles
Gloves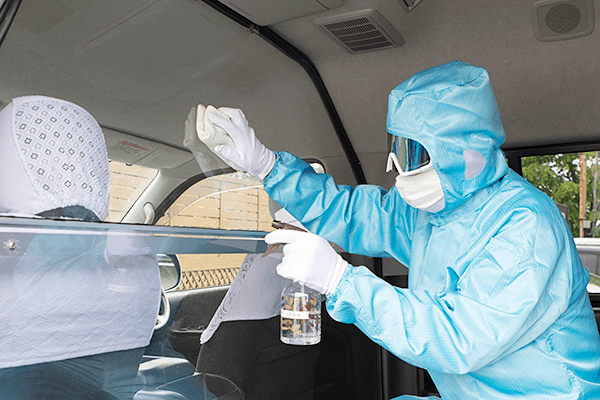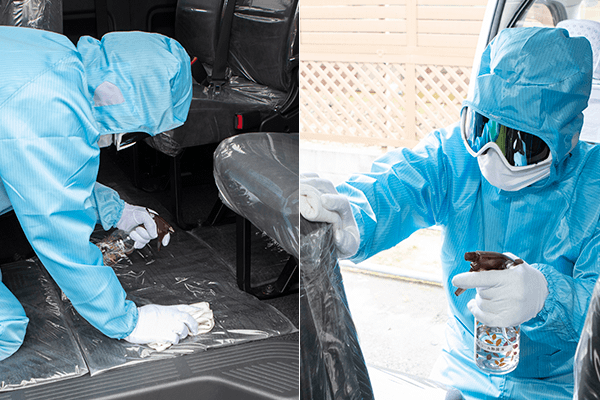 Special specification Toyota HiAce (We make a partition between driver's seat and the back seats)

In this plan, we use vehicle (HiAce) with eight seats, excluding the driver's seat and passenger's seat.
It is recommended for four passengers,
And that way, you can carry more luggage.

335-1 Goseki Sakura-ku, Saitama-shi, Saitama-ken 338-0815
(24 hours a day; Accepting calls from within Japan only)
We accept all calls at our Head Office.
Payment We accept cash, bank transfer, or credit cards.
*Rates are special price for travel from our sales office assuming the use of expressway.
*Rates on the list are approximate. We will present the rates at the time of your application.
Depart from Narita Airport
Destination
Rate
Time required
Saitama prefecture (Southern part)
Saitama city
30,000 yen
1hour 20minutes
Saitama prefecture (Northern part)
Kumagaya city
40,000 yen
2hour 10minutes
Tokyo Special ward / Busan district (Musashino city and Mitaka city)
Tokyo Metropolitan Government Building
30,000 yen
1hour 10minutes
Tokyo (other area)
Hachioji city
36,000 yen
1hour 40minutes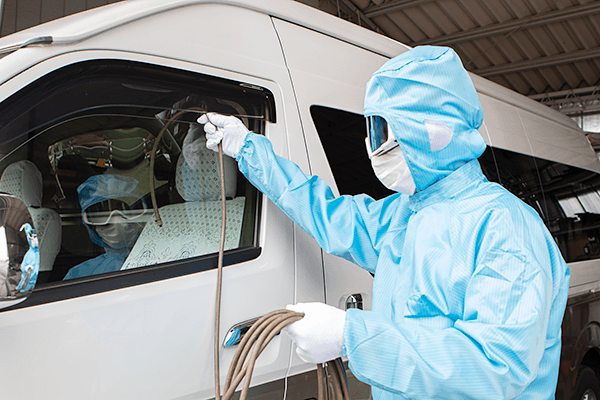 In consideration of the time required for PCR test, we set the pick-up time three hours after the flight arriving at the airport.
We will wait free of charge for additional two hours from the scheduled pick-up time (maximum five hours in total from the flight arrival), provided that you made contact with our driver within three hours from the flight arrival.
After that time, we will charge 4,000 yen for every 30 minutes.
We do not accept operation if you are to make connection to public transportation.
(e.g., when the destination is a train station and you intend to travel on a train thereafter.)
In addition, after boarding you cannot change the destination for any reason from the one you declared at the time of application or declared to the quarantine officer.
If you request a change, we will stop the operation and handle it as a cancellation attributable to you, and will charge you 100% of the fee as cancellation fee.
As we have guidance from the Ministry of Health, Labor and Welfare, please be aware of this before making your application.


Depart from Haneda Airport
Destination
Rate
Time required
Aomori Prefecture
Aomori City
285,000 yen
8 hour 40 minutes
Akita Prefecture
Akita City
265,000 yen
7 hour 30 minutes
Iwate Prefecture
Morioka City
226,000 yen
6 hour 50 minutes
Miyagi Prefecture
Sendai City
148,000 yen
4 hour 40 minutes
Yamagata Prefecture
Yamagata City
162,000 yen
5 hour
Fukushima Prefecture (Northern part)
Fukushima City
108,000 yen
3 hour 50 minutes
Fukushima Prefecture (Southern part)
Iwaki City
92,000 yen
3 hour
Ibaraki Prefecture (Northern part)
Hitachi City
68,000 yen
2 hour
Ibaraki Prefecture (Southern part)
Mito City
56,000 yen
1 hour 40 minutes
Tochigi Prefecture (Northern part)
Nasushiobara City
70,000 yen
2 hour 30 minutes
Tochigi Prefecture (Southern part)
Utsunomiya City
62,000 yen
2 hour
Gunma Prefecture (Northern part)
Numata City
70,000 yen
2 hour 30 minutes
Gunma Prefecture (Southern part)
Maebashi City
60,000 yen
2 hour
Saitama Prefecture (Northern part)
Kumagaya City
40,000 yen
2 hour
Saitama Prefecture (Southern part)
Saitama City
30,000 yen
1 hour
Chiba Prefecture
Chiba City
30,000 yen
1 hour
Tokyo special ward / Busan district (Musashino city and Mitaka city)
Tokyo Metropolitan Government Building
15,000 yen
30 minutes
Tokyo (other area)
Hachioji city
24,000 yen
1 hour
Kanagawa prefecture (Eastern area)
Yokohama City
20,000 yen
30 minutes
Kanagawa prefecture (Western area)
Odawara City
35,000 yen
1 hour 30 minutes
Yamanashi prefecture
Kofu City
50,000 yen
2 hour
Yamanashi prefecture (Eastern area)
Otsuki City
44,000 yen
1 hour 30 minutes
Nagano Prefecture (Northern part)
Nagano city
90,000 yen
3hour 30minutes
Nagano Prefecture (Southern part)
Suwa City
84,000 yen
2 hour 40 minutes
Niigata Prefecture
Niigata City
144,000 yen
4 hour 30 minutes
Niigata Prefecture (Southern part)
Uonuma City
80,000 yen
3 hour 20 minutes
Shizuoka Prefecture
Shizuoka City
72,000 yen
2 hour 30 minutes
Shizuoka Prefecture
Hamamatsu city
90,000 yen
3 hour 30 minutes
Aichi Prefecture
Nagoya city
128,000 yen
4 hour 30 minutes
Gifu Prefecture
Gifu City
138,000 yen
5 hour
Mie Prefecture
Tsu City
138,000 yen
5 hour
Toyama Prefecture
Toyama City
168,000 yen
6 hour
Ishikawa Prefecture
Kanazawa City
168,000 yen
6 hour 30 minutes
Fukui Prefecture
Fukui City
195,000 yen
6 hour 30 minutes
Shiga Prefecture
Otsu City
168,000 yen
5 hour 30 minutes
Nara Prefecture
Nara city
188,000 yen
6 hour
Kyoto prefecture
Kyoto City
188,000 yen
5 hour 45 minutes
Osaka prefecture
Osaka City
235,000 yen
6 hour
Wakayama Prefecture
Wakayama City
224,000 yen
7 hour
Hyogo prefecture
Kobe City
210,000 yen
6 hour 30 minutes
Okayama Prefecture
Okayama City
268,000 yen
8 hour 15 minutes
Hiroshima Prefecture
Hiroshima city
290,000 yen
10 hour
Yamaguchi Prefecture
Yamaguchi City
370,000 yen
11 hour 30 minutes
Tottori prefecture
Tottori City
266,000 yen
8 hour 30 minutes
Shimane Prefecture
Matsue City
306,000 yen
9 hour 30 minutes
Kagawa Prefecture
Takamatsu City
270,000 yen
8 hour 15 minutes
Tokushima Prefecture
Tokushima City
254,000 yen
8 hour
Ehime Prefecture
Matsuyama City
290,000 yen
10 hour
Kochi Prefecture
Kochi City
300,000 yen
9 hour 45 minutes
Fukuoka Prefecture
Fukuoka City
410,000 yen
14 hour
Saga Prefecture
Saga City
440,000 yen
14 hour
Nagasaki Prefecture
Nagasaki City
440,000 yen
14 hour 45 minutes
Oita Prefecture
Oita City
440,000 yen
14 hour
Kumamoto Prefecture
Kumamoto City
460,000 yen
14 hour 30 minutes
Miyazaki Prefecture
Miyazaki City
470,000 yen
17 hour
Kagoshima prefecture
Kagoshima City
490,000 yen
17 hour